Newsletter
South Carolina Angus Association News
Sharon Furr
August 2017 and September 2017
Each year, as I pull up to Garrison Arena, for the Jr. Beef Round Up, I am just in awe at the amount of trucks and trailers, and mamas and daddy's, and children of all ages, not to mention such beautiful cattle, coming together for such an awesome event. An event that really is all about our youth! Celebrating our youth is a rarity in this day and time, especially when families come together to become one, for the better good of their children. It's truly a beautiful thing! As in years past, this year's Jr. Beef Round Up, once again was wonderful, and exceeded the bar, especially for our SOUTH CAROLINA JUNIOR ANGUS!

Highlights and Pictures from 2017 Jr. Beef Round Up!

---
Upcoming Sales:
Saturday, Oct. 28, 2017
Yon Family Farms - Fall Sale @ 11AM Eastern time
Angus, SimAngus & Ultrablack Cattle- Coming Two-Year-Old Bulls, Yearling Bulls, Fall Pairs, Spring Pairs, Bred Heifers and Cows, Open Heifers. Over 300 head will sell!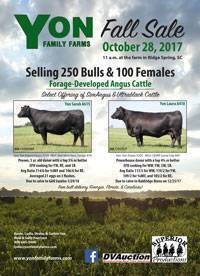 For more information or catalogs contact:
Kevin & Lydia Yon at (803) 685-5048
lydia@yonfamilyfarms.com or
PO Box 737, Ridge Spring, SC 29129

www.yonfamilyfarms.com
---
Upcoming Events:
October 11-22, 2017
S.C. State Fair
October 19-21, 2017
Beef Cattle
---
Don't forget....................If you need to reach me, or if you have something cool to share with me, or if you have any great pictures from any event you have been to, please don't hesitate to call me, or text me, or email me – I'd love to hook up with you.
SCAA, c/o Sharon Furr - Secretary, 2049 Boyd Road, Blackstock, SC 29014, or to my email address below.

Contact information: 704.577.3639 – spanishoaks@truvista.net 
I can't wait to see you on the road, but until then.............................................

Sharon




ARCHIVE